It's been a while! Here is my newest home for The Sims 3.  It's a gothic home inspired by & built for the Goth Family! This old, new home features, 3 beds, 3 baths, living, family, dining, cellar, study, lab, alchemy room, greenhouse, gazebo, pond & private cemetary. Built on 261 Valley View Dr., Moonlight Falls. Also fits in well on the Goth lot in Sunset Valley. Gothique Library and Midnight Hollow highly recommended.  Please don't re-upload.  The home is play tested and contains NO CC or CAP. Now on with the tour.
Specifications:
Beds/Baths: 3 bedrooms and 3 bathrooms
Location: 261 Valley View Drive, Moonlight Falls (50X50 lot.  Home also fits in well on the Goth lot in Sunset Valley)
No CC
Store Content: Yes (see list at bottom of the picture tour.  Midnight Hollow and Gothique Library are highly recommended)
Major Eps & SPs used: Supernatural, Showtime, Island Paradise, World Adventures, Late Night, Generations, University, Pets, Ambitions,
Minor Eps & SPs: Seasons = dining table, Into the Future = 1 bush & glass tiles, Outdoor Living = lemonade pitcher
Starting with the property entry, we will first tour the outside of the home.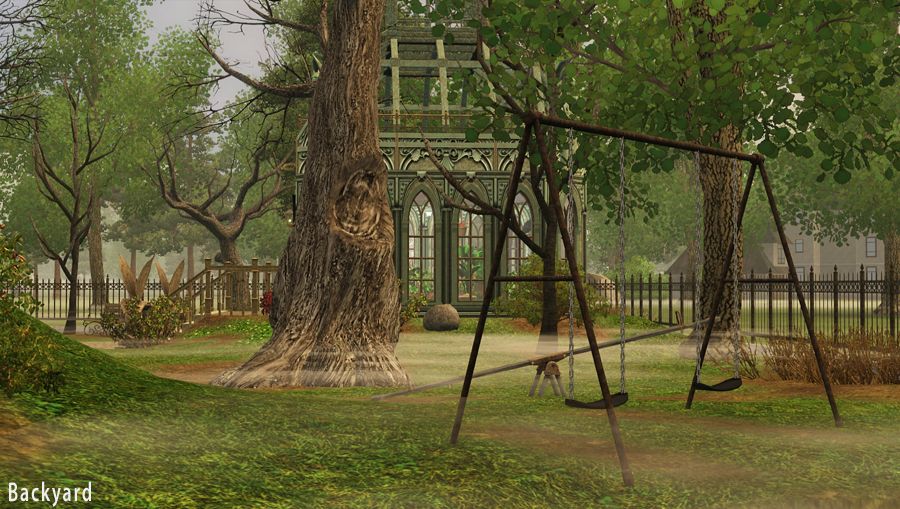 Now onto the inside.
A hidden spiral staircase leads from the kitchen to the nectar cellar
From here we will continue on with the basement.
Now up the spiral staircase, which leads back to the living room, we will tour the rest of the 1st floor.
Now we will head up the stairs and tour the 2nd floor.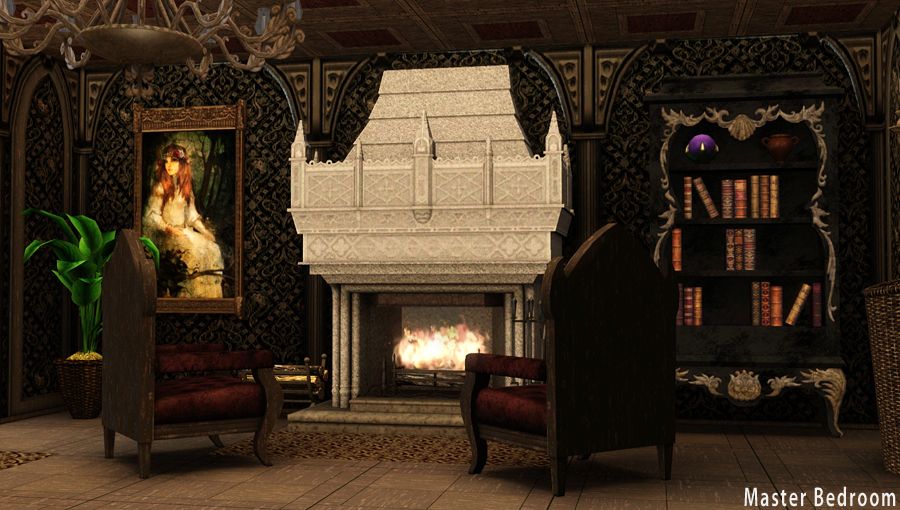 And that concludes the tour.
Haunted by the Goth family ghosts.
Also fits in well on the Goth lot in Sunset Valley.
Thank you for taking the tour and I hope you enjoyed it! Have a pleasant evening.
Store Items:
Everything is listed on the exchange is correct except that it left out a few items.
Midnight Hollow World: Sitting pretty gothic dining chair, Voluminous valance, Left voluminous curtain, Right voluminous curtain, Windowed Victorian doubled doors, Pretty porch fencing, Gothic ingle (fireplace), Mural modern wide (painting), Mural modern (painting), Haunted pansies, Wrought iron spiral staircase, Draped demise statue, Steel roof ridge, a couple of wallpapers.
Gothique Library: Traceried window, protected column
Now and Then Century Manor: Manor stairs, Hang left curved colonial stair rail, Hang right curved colonial stair rail, Colonial mansion railing, Spider web work 1
Gothique Living & Sleeping: Gothique sofa, Gothique living chair, Gothique flower vase, Reynard the raven, Oval gothique painting, Gothique dining chair
Club Vaindenburger: President's desk, Fraud laug
Once Upon a Time Cottage: Quaint kitchen hood lamp, Porridge prep wall shelf
Brunch at the Old Mill: Upper right untamed wall ivy, Upper left untamed wall ivy
Steampunk Kitchen: Teaquinology enjoyulator, Spring locked in a lantern terrarium
Edwardian Expressions Kitchen: Haute high hanging wall shelf, Lush bloom lily vase
Provence: Rustic hanging basket, Rustic loaf box, country carved dining chair
Palace of Versailles: Fin table, Quelle heure clock
Jazz Age Living Room: The big cheese coat rack, He's a live wire radio
Storybook: In the park by awalck painting, Octagonal end table
Dragon Valley World: Ornate Arch
Indulgent Living: Feathered table sculpture
Regal Living: Cutkelvin's loveseat
Buccaneer's Bounty: Mother brassbeard's birdbath
Mediterranean Life Kitchen: Vineyard Vittles Shelf
Tutor of Tudors: Castle window
Mother of Russia: Mother of Russia fence
Deliciously Indulgent Bakery: Handy cookie jar
Bayside Kitchen: Practical Al's Kitchen Cart
Bayside Laundry (loads of laundry): Bayside Hamper
Hacienda Luxury: Pedro estate arch II
Haute Haciends Dining: Cantina candelabra
Ultra Lounge Teens: Double frame photo
Zen Again: Spa Necessities
Contemporary Comfort Bedroom: Berkeley hope chest
Animals Abound Playground Bedroom: Secret Sonny portrait
Weba Yayfoo! (under holidays and gifts): Olde Simogany desk (free item)
In the dawn of Sims (holidays and gifts –>the sims celebrations): Golden woman of prosperity painting, Ironic clown by Angelo painting (both are free items)
The Sims 3 Generations Registration Gifts (under holidays and gifts –> Registration Rewards): Rotary phone (free item)
World Adventures Explorer's Loot Registration Gifts (under holidays and gifts –> Registration rewards): Le Petit Effel tower sculpture (free item)