Happy Summer! I just shared a new lot to the exchange. It's a Greek inspired build, with the exterior based on a real life structure (The Sky Villa in Anguilla). I was researching the elements of Greek architecture, when I came across it and I just had to build it! The floorplan and interiors are completely of my own design and it was a rough go with interior design. White is hard to work with as a dominant color in The Sims (the shadows and blooming are difficult to control, but I tried my darndest hardest to do it (texture, invisible lights and intensity adjustment are my friends, LOL). I found the Greek style to be a challenge as well. I tried my hardest to embody it (lots of white, simple, clean, crisp, homey, artful, minimalist without being as minimalist as Japanese minimalism). The home is playtested and contains NO CC or CAP. Now on with the tour.
Specifications:
Beds/Baths: 3 beds and 3 baths, private balconies for the children's and master bedroom
Location: Isla Paradiso on the Flats at Fire Island (island with the one 50X50 lot)
No CC
Store Content: Yes (see list at bottom of the picture tour)
Major Eps & SPs used: Seasons, Late Night, World Adventures, Ambitions, Showtime, University, Island Paradise, Pets, Generations, Outdoor Living Stuff, Fast Lane Stuff
Minor Eps & SPs: Into the Future=glass fence (can use base game glass fence or the Store's Bauhaus fence as a substitute) Town Life Stuff= towel
Since the pool area is the first thing sims will encounter when they enter the property, we'll start with some of the outdoor areas.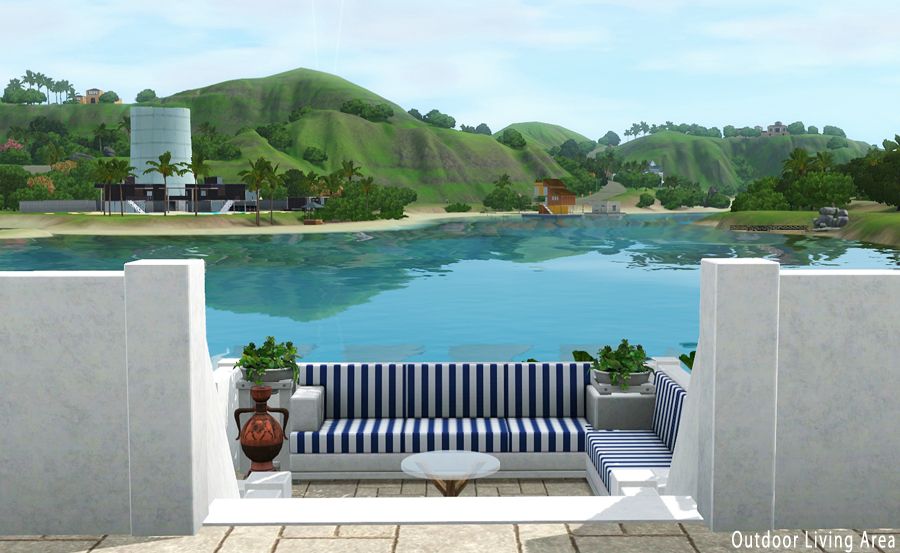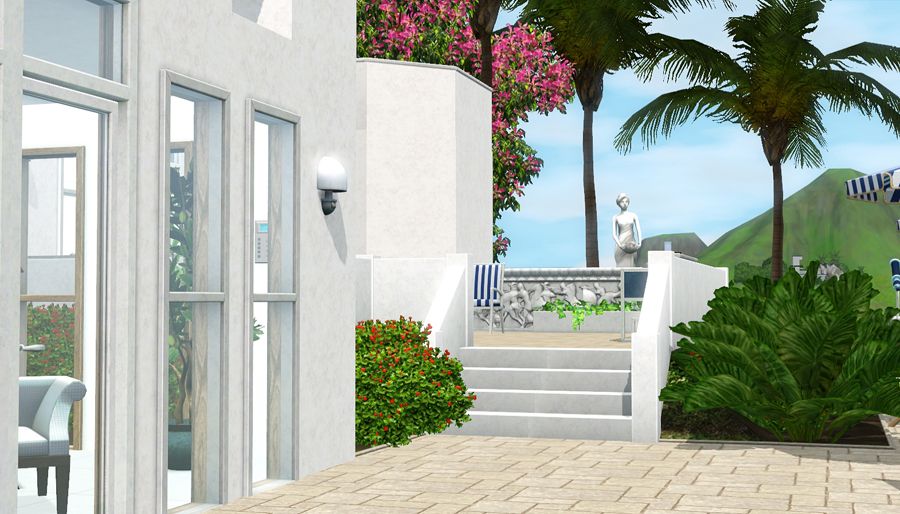 Stairs lead to the outdoor bar area and also lead to the dining room entrance.
Time to take a look inside.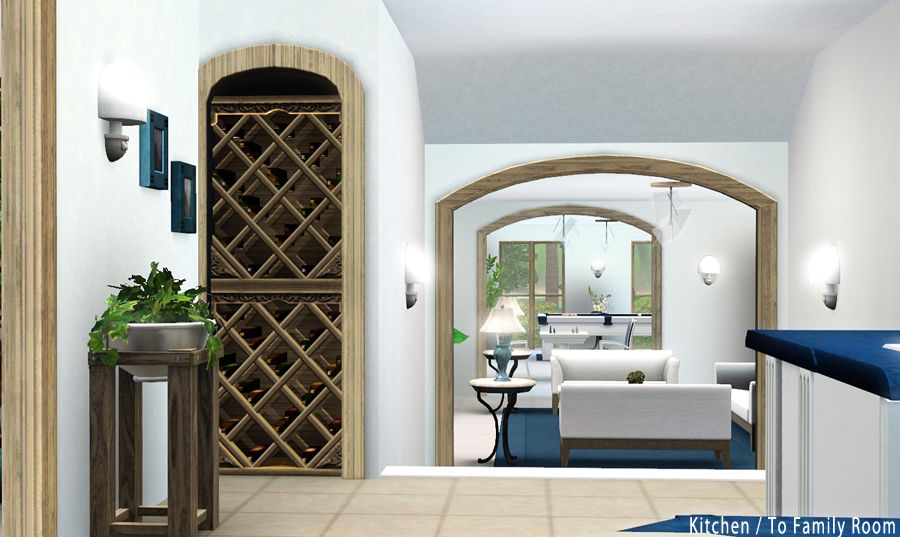 Family room opens to the small back patio.
Family room opens to the rec room.
Guest Bedroom exits into a hallway which has an entry out into the pool area.
Now on the upstairs.
Enclosed spiral staircase leads down to the pool area.
Now back inside and upstairs and down the hall that leads to the master bedroom.
Through the door and to the master bathroom.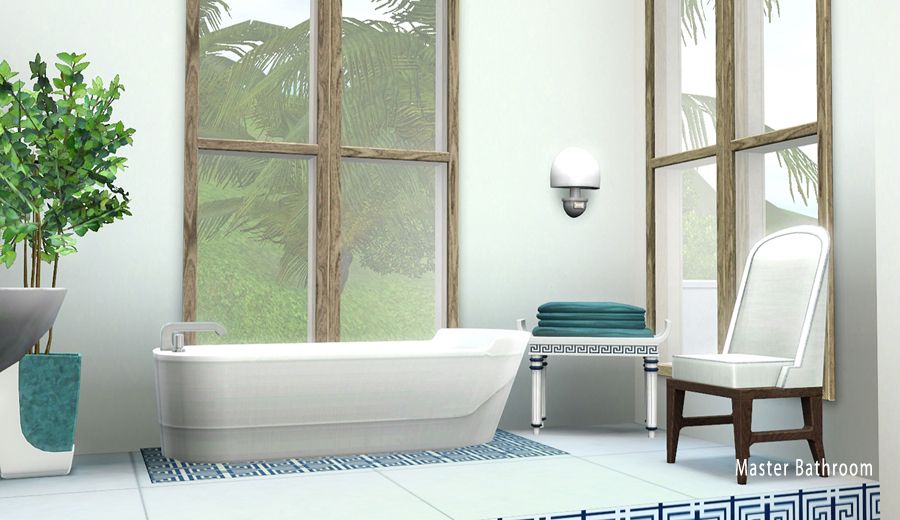 Back into the master bedroom.
Enclosed spiral staircase leads down to the pool area.
And that concludes the tour.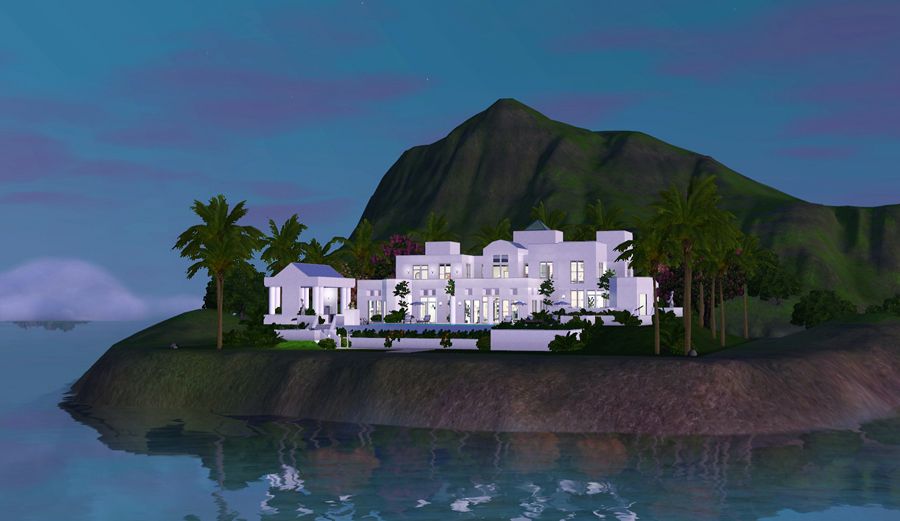 Thank you for taking the tour and I hope you enjoyed it! Have a pleasant evening.
Store Items:
Everything is listed on the exchange is correct except that it left out a few items.
Lucky Palms World: Clearstory Rectangular Window (Not essential to the structure, just an extra detail to the very top of the home. If you don't have lucky palms, just delete whatever window the game replaces it with)
Skylight Studio for the Performing Arts Venue: Sharper Edge Skylights Part I (not essential to the structure, but a nice detail to have)
BahHaus: BahHaus Fantasy Arch, Bauhaus Window, Super Tall Window by BahHaus
Haute Hip: Haute Hip Window Collection V.1
Muse Luxury: Artemis Temple Frieze, Athena's olive tree, Grecian Chair, Grecian Coffee Table, Dionysus sofa, Aphrodite's End Table, Apollo's Lyre
Olympian Physique Venue: Greek Pitcher, Greek Urn, Grecian Towels
Sun, Sand & Surf: Getaway Beach Chair
Live, Laugh, Love: Blooming Garden
Mid Century Modern Kitchen: Murano Metro and Ripe Fruit Bowl
Mid Century Modern Dining: Fab Ficus Tree
Mid Century Fantasy: Italian Starburst Mirror
Ultra Lounge Living: Super Sim Television DLX, Theo's Contempo Coffee Table
Hollywood Regency Den: Le Ecoute Moderne Chess Table
Glitter and Glam Bedroom: Lovely Luminosity
Bayside Kitchen: Practical Al's Kitchen Cart
Bayside Laundry: Bayside Hamper
Haute Haciends Dining: Desert Oasis floral Vase
Mediterranean Life Kitchen: Vineyard Vittles Shelf
Zen Again: Reach for the Heavens flowers
I heart the 50's Laundry (loads of laundry): Ginchiest Sink